10 Jan

Workplace in Focus: 7 Weeks to Revamp Coulmed's Office for the New Hybrid Work Landscape

As has been the case with many big businesses, Coulmed, a global medical supplies company discovered their workplace needed to be radically changed as a result of the pandemic. Having doubled the size of their workforce during the pandemic and since their last office spruce-up 20 years ago, their space felt cramped, rigid, and old-school.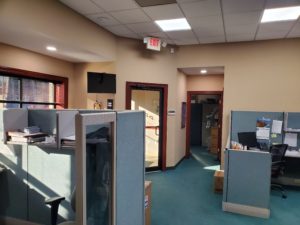 Coulmed needed an office that was tech-equipped for the new Zoom era. They needed a space that would help retain their existing talent and attract new hires. They required a thriving workplace that would reflect their team's ambitions and their dynamic, ever-growing, and successful brand. Coulmed President, Michael MacDougall said:
"One of our biggest concerns was how do we retain talent? We wanted a project that would meet all of our requirements especially with our younger staff coming on board."
"We needed more space, better layouts, better applications for the COVID requirements, and started looking around for a company who could do that for us and do it quickly and successfully."
"We started doing a bit of research as to what our options would be and what we could do to fulfill our need. A friend of mind recommended RI to us after a very excellent experience that he had in a major renovation in New York."
The Renovation Brief
Work landscapes changed drastically during the pandemic and being pioneers in their industry, Coulmed wanted to bring their space up to date with a new layout that would work as well today as in ten years' time. RI's goal was to:
Create an adaptable, budget-friendly space tailored to their new hybrid work model 

Create a connected space with more power points and dedicated space for video conferencing 

Create a wellbeing-focused space with lots of light and a mix of open and cozy offices which would suit different age groups and personalities
The Background Work
The project started out with Coulmed's leadership team visiting our showroom to develop ideas for their own space. Much of what they saw they loved, and RI worked with them to incorporate these elements into their own unique design that was both budget-friendly and attractive. We were pleased to be able to offer Coulmed the convenience of having a one-stop-shop design and build package. The services we provided them included:
Workplace Advisory

Space Planning and Layout

Finishes and Furniture

Positive Culture Development
The 7-week Build
RI demoed Coulmed's existing office, built out and fully furnished a brand-new workplace which included three bathrooms, a kitchen, private offices, a conference room, a "Zoom" room, a "beehive", a custom wall mural, cabinetry, and furniture. In just seven weeks, the Coulmed team was able to return to a fresh, new, and safe environment with confidence and excitement.
The Results




"The team there at RI brought together designers, project managers, assured us they could take care of all the headaches that are related to construction from the permit process, the design process, all the install and insight related to it, IT and cabling necessary for security and get us into our renovation completion in two and a half months,"
"This all happened right down to the very week they had planned. The project was completed, our staff moved back in, and we were operational on the day RI told us it would be completed. As a business owner that is critical to me. Any of us in business know what it's like to have delays that drag on and on, with one excuse after the other, and we didn't have any of that with RI."
"The RI Group thinks ahead, plans ahead and delivers. That is extremely important in the demanding times we are in today. The RI Group came through for us 100% on time and on budget," said Michael MacDougall.
View the full Coulmed project here
Let us Help You Create your Hybrid-Era Workplace
Our design team will help you optimize or reimagine your space to create an environment that not only looks and feels amazing, but one that promotes productivity and wellbeing for happy staff and business success in the new hybrid work landscape.
Are you ready to discuss your dream workplace with us? Get in touch here