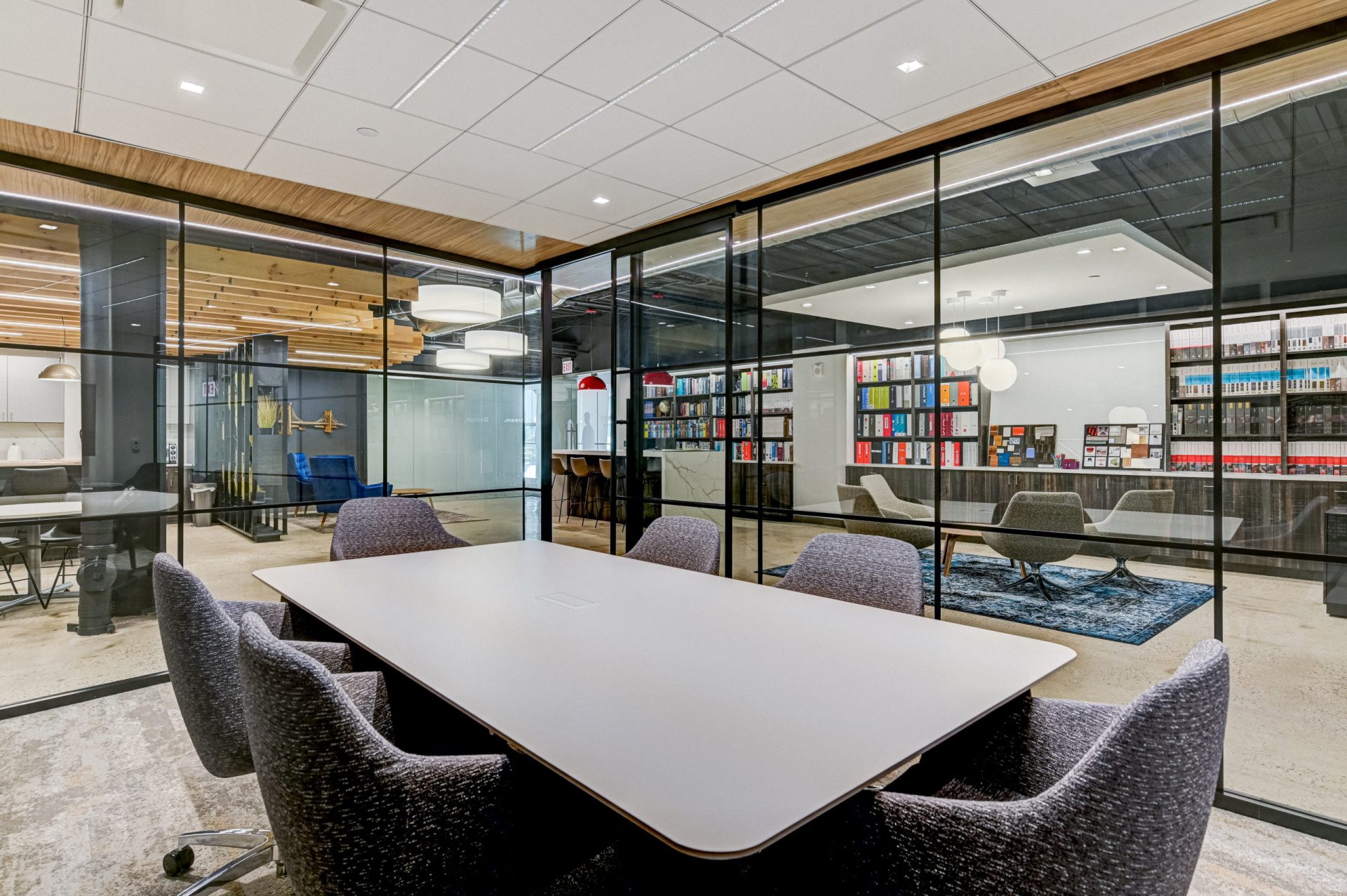 14 Sep

Workplace In Focus: Tech Forward Offices
Workplace In Focus: 3 Ways to Create a Tech-Forward Office
With 60% of U.S. office workers saying they don't want a full-time return to the workplace after the changes of the past few years, it's safe to say, hybrid work and the hybrid office is here to stay.
Mobile and cloud technology empowers workforces to work from wherever and whatever device these days. And now office leaders are reconsidering their workplaces in many cases, reducing square footage and/or desk numbers. Those that achieve the best results, are also implementing new tech as an integral part of design.
Providing workforces with the right equipment is key to making workplaces a pleasant and productive place to be for hybrid workers on their days on-site. (A key business driver) So, what does a tech-forward office look like and how can workplaces deliver?
1.Say goodbye to fixed workstations, hello to hot-desking apps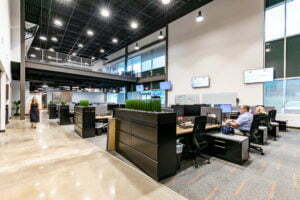 One of the most noticeable differences in contemporary office layout over the past few years is the employee-to-desk ratio, which has dramatically decreased in many workplaces. Indeed, in some global firms, desks are no longer assigned to specific employees.
One such example is Deloitte's The Edge office in Amsterdam. A great example of a new-generation, intelligent, and eco-friendly workspace, The Edge is home to 2,500 employees, who share just 1,000 desks.
The company's flexible strategy is powered by leading-edge hot desking apps that use motion sensors to let workers know which desks are occupied and which are free. The Edge employs this location-based technology not just to help users find desk spaces easily, but even resources such as printers, coffee machines and even their colleagues at other hot desks.
This clever tech has a lot going for it, helping reduce costs through more efficient space usage and employee productivity, but also serving to attract and retain talent.
2. Get ready for Sensor-tivity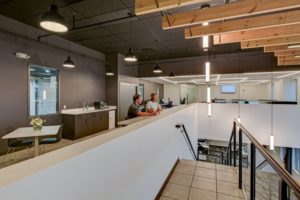 Sensors have been used for a long-time in retail spaces but are now being used much more widely in offices. Sensors can be used for lighting and heating an office, reducing heat and light in empty areas and increasing it in occupied areas along with recording and delivering occupancy data. They can also be used for maintenance. For instance, placing them next to boilers and air conditioning units will enable performance data collection and send a notification when a problem arises.
3. Provide the power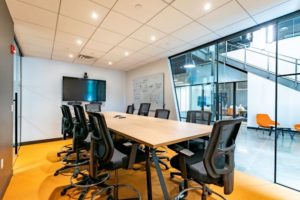 Never underestimate the power of a generous amount of well-placed power points and sockets. Office leaders never want to see their workforce huddling around the one spare socket next to the kettle in the kitchen, taking it in turns to charge their devices!
Along with good old-fashioned plug sockets, wireless charging is another huge feature of contemporary hybrid office design. Modern wireless charging tech solutions, such as ChargeSpot, can be placed underneath meeting tables and desks so as not to break the surface of the worktop. And some of the big-name contract furniture manufacturers are already creating desks and tables with wireless charging built in.
Interestingly, recent workplace research from Knoll showed that employees are most likely to book a meeting room that has the best tech/power availability rather than the meeting rooms with the most space or the best views.
So, when it comes to creating a future-ready workplace, it is really important to remember those easy-to-access power points (both a no-brainer and easy to implement, but something that often gets overlooked) along with of course, investing in tech such as simple-to-use meeting-room booking software, and big screen tech for video conferencing.
Conclusion
Implementing the right mix of technology into your workplace can enable not only better experience for users and customers, but also better business performance. A recent report from work management company Workfront revealed that despite economic uncertainty and a fiercely competitive job market, 49% of the U.S. workforce would leave their job due to frustrations with technology. And so, when it comes to implementing new tech as part of a modern hybrid office, there is no time for standing still. The time to shift to a more tech-forward office is now.
Let us help you create your tech-forward space
Our design team will help you reimagine your space to create an environment, which not only looks and feels amazing, but works efficiently by being designed to cater for the latest technology. We create spaces that promote productivity, inspire wellbeing, and add value to your people's working lives.
Are you ready to discuss your dream workplace with us? Get in touch.