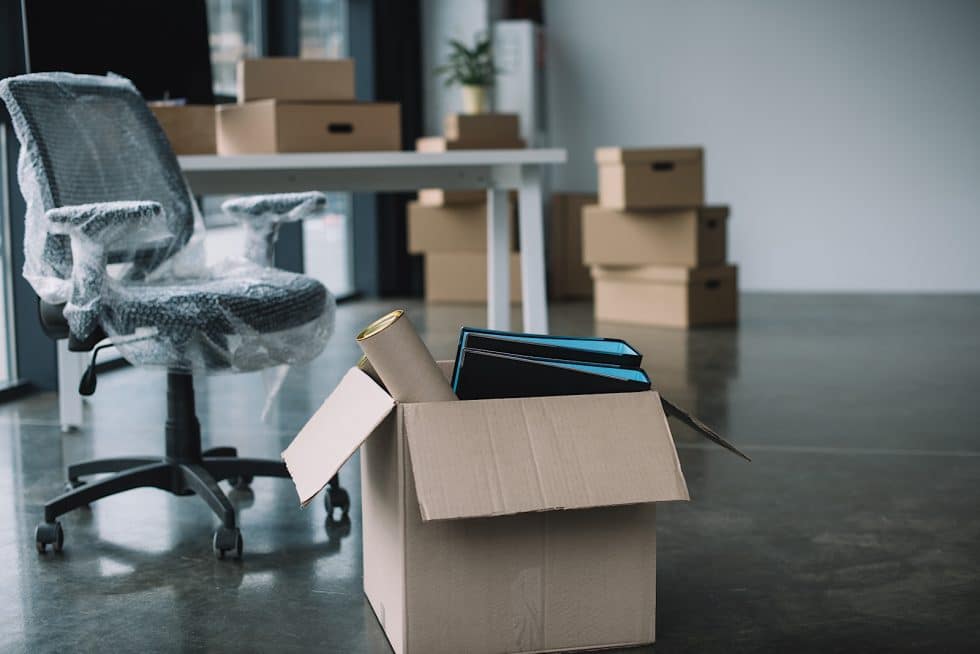 20 Oct

The Complete Office Relocation Checklist
Ready to make the big move? Office relocation projects can be daunting, but the benefits are felt for years to come. By giving your business a fresh and operational home, you'll have a workspace that's purpose-built for success. The transformative impact of a reinvigorated workspace cannot be understated: boosted employee morale, increased productivity, reduced costs and a springboard for innovation and growth are just some of things you can expect.
Like all big projects, an office relocation requires meticulous planning and careful consideration every step of the way. While every company is different, there are a few common steps that every business should follow when finding a new home for their office.
Lease
First thing's first, know the terms and conditions of your current lease agreement. If your lease expiration date is confirmed, then you'll have a concrete deadline to work towards. Always remember to cover all bases – if your workspace has been damaged during your occupancy, you could incur fees for repairs. By getting to grips with your old and new lease terms, you'll set yourself up for success with no costly surprises along the way.
Location
The perfect office space needs to be in the right location for your business. Here are some of the most important questions you need to ask yourself before any office relocation:
What does the prime location look like for you?
How will a new location affect current travel patterns for staff?
Do you need to be close to a talent pool of potential employees?
Are the general transportation links suitable for staff, clients, and visitors?
Does your brand suit the new location?
Making sure your company fits in with the new community surroundings is critical for a seamless transition. So consider everything, and don't overlook simple things like local amenities as these are some of the pull factors that give employees a sense of comfort and community in their everyday work lives.
Workspace Infrastructure
A thorough infrastructure analysis is one of the most important ways to kickstart your office relocation. By determining what you'll keep the same and what you'll need to change, you can uncover your new space requirements and be prepared for your project journey. This is a good time to think about potential improvements to your equipment and furniture as well. Is it time to upgrade seating? Would a refreshed approach to equipment benefit your business model? As office relocation advisors, RI Group's consultative approach will offer advice and expert insights into your infrastructure decision-making process.
Tech
Technology is the backbone of most workspace operations. For a smooth transition from one location to another, it's important to consider your essential facilities that enable the day-to-day functioning of your business. Think about fundamental elements such as servers, backup support, phone lines, internet provisions, power cables, printing facilities – but remember these are just a few of the basics. An experienced design and fit-out team will analyze your needs and ensure all essential technology and equipment is prioritized for your new workspace.
Communication
One of the most critical components of a successful office relocation is good communication. It's imperative to get your people on board from the outset: so staff surveys, questionnaires and comprehensive notice communications of any relocation is highly recommended. It's not just employees you'll need to correspond with: clients, suppliers and key stakeholders all need to be aware of your new workspace address and contact details. You don't want to miss the morning water cooler delivery! So think ahead and spread the word in advance to avoid any hiccups along the way.
Storage & Removals
If you're moving everything into the new workspace, a good removal service will ensure the smooth transition of items from one place to another. There's no better reason to declutter, so really try to evaluate your inventory and only take valuable items that will belong and fit into the new space. Remember to label boxes and use protective packaging material to wrap items to avoid damage. If you have bulky items like historic records and old files, consider opting for off-site storage for things that might not need a permanent space in your new workspace.
Find an expert relocation partner
RI Group has three decades of experience in delivering office relocation projects for a wide range of businesses. We're experts and we cover every aspect of your relocation project leaving no stone unturned, resulting in a seamless transition into your new premises.
From the very first step of finding a broker and a new location, to the finer details of decor and furniture selection at your new space, our office space advisors can be at your side every step of the way to deliver a streamlined relocation from start to finish. For a hassle-free relocation project, get in touch with us and see how we can make your relocation project stress-free.