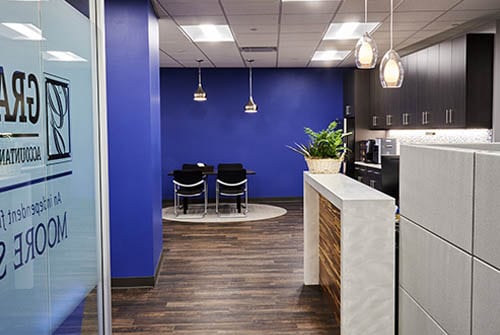 23 Sep

Healthy Building Features That Improve Employee Lives
Green Office Trends: Healthy Building Features That Improve Employee Lives
69% of businesses that implemented healthy building features reported improvements in employee satisfaction and engagement.
A report from the World Green Building Council looked at companies around the world that have upgraded their buildings to offer healthy, "green" features and found positive results like:
Lower absenteeism rates
Increased productivity
More collaboration
Green Workspaces: Second Nature
Everything from office buildings to hotels to malls has added living green walls, plants, trees, or flowers to their interior and exterior landscapes. The trend favoring interior greenery, like we saw last year with the Biophilically Designed trend, has evolved from a trendy fashion statement to a near-necessity in design economics.
Repurpose and Recycle
The use of recycled materials and the repurposing of previous furnishings and accessories is featuring heavily in 2019 interior design trends, so it only makes sense that it's popping up in office design ideas as well, and for good reason. Being environmentally conscious about your office design not only helps you create a special and one-of-a-kind office space, but it also helps lessen your impact on the environment too.
Natural Light
According to a new study conducted by Alan Hedge, a professor in the Department of Design and Environmental Analysis at Cornell, optimizing the amount of natural light in an office significantly improves health and wellness among workers, leading to gains in productivity.
The WELL Standard 
We spend 90% of our time indoors so we need to make sure that we are using that time to stay healthy at home and at work.
WELL takes a holistic approach to health in the built environment; addressing behavior, operations, policies, procedures and design.  Much like LEED was created to measure and verify how healthy a building is for the planet; WELL was created to measure and verify how healthy a building is for the people.
The WELL Building Standard® is a performance-based system for measuring, certifying, and monitoring features of the built environment that impact human health and wellbeing, through the air, water, nourishment, light, fitness, comfort, and mind.
Find out how to get your WELL building project started here: https://www.wellcertified.com/en/become-a-well-ap
Need more ideas?Contact us online today