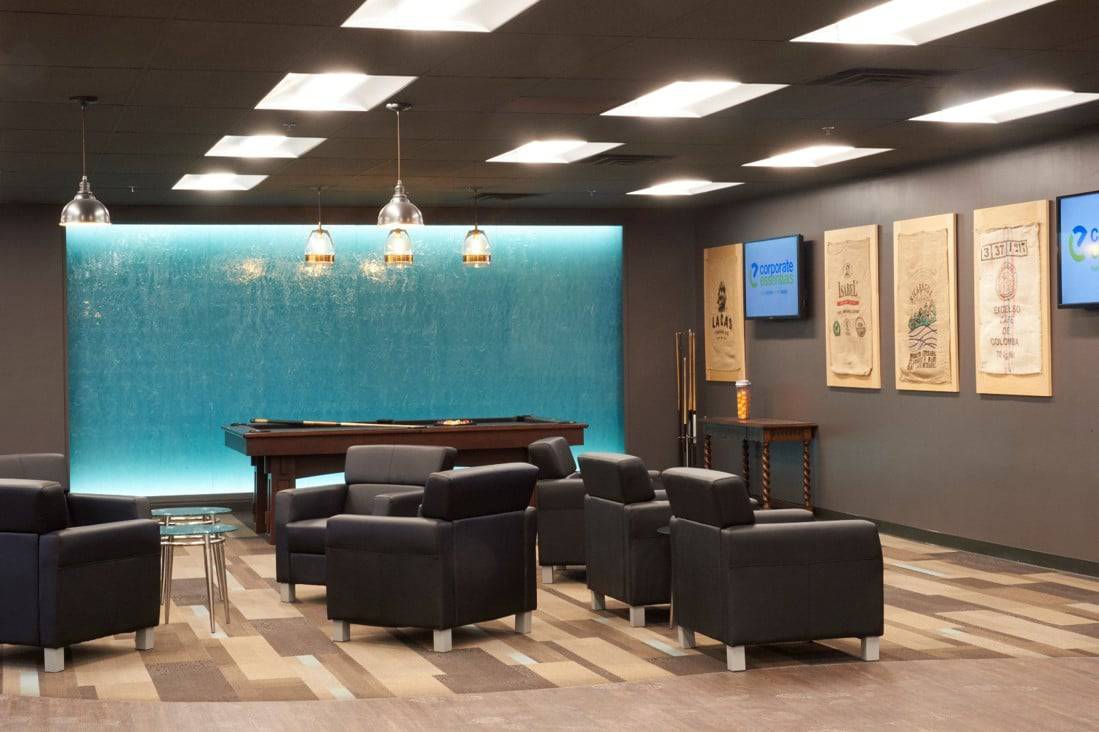 11 Feb

Future Workspaces: Is your workplace designed to accommodate future ways of working?
Future Workspaces: Is your workplace designed to accommodate future ways of working?
Work routines have changed, and workplaces are changing at a similar pace. The future of office design is very much lead by the diverse and continuously changing needs of the twenty-first century.
What do current and future workplaces need to keep employees engaged and productive?
Well-Designed and Home Like Atmospheres
The popularity of innovative office furniture solutions, breakout areas, and café style meeting areas are reflecting more and more aspects of home interior design and will become a predominant part of the modern office going forward. According to Clutch's 'Future of Work' survey, the majority of workers (61%) value an aesthetically pleasing, comfortable workplace. For example, an office with high-quality chairs, enough bathrooms, and space to hold meetings, eat, brainstorm, or focus supports workers' comfort.
It's hard to define 'aesthetically pleasing,' but a few guidelines have the weight of surveys and studies behind them:
Customizable space for every employee
"Nature contact," which means having indoor plants or a nearby park
Enough natural lighting to prevent artificial lighting from wearing out workers' eyesight
"The eight-hour continuous workday is the result of a social contract inherited from the 19th century. It's obsolete and no longer makes much sense. A growing number of professionals who are highly committed to their projects have decided to work in a more complex, hybrid, and intense manner. In order for workplaces to accommodate this new social and work-related reality, I think they must contain elements that have not traditionally been associated with offices but rather with domestic spaces." – Guzman De Yarza Blache
Flexibility
According to Clutch's 'Future of Work' survey, over half of all workers (53%) value the flexibility to work in different locations. Different locations could mean multiple spaces in the same building, but it most likely means separate spaces entirely: from an office and from home, or from a coffee shop and from a co-working space. Providing both enough space and enough flexibility to make employees feel in control of their work environment is key. The most advanced companies are introducing flexible ways of working that reject enclosed, compartmentalized spaces and instead embrace collaborative and more transversal areas.
Community
"More than cost or appearance, the goal is to attract the talent of new generations—to create inspiring and creative environments that give rise to collaboration." – Guzmán de Yarza, IE School of Architecture and Design. Nearly half of workers (47%) value a community atmosphere at the place where they do their work. These numbers show that workplaces should be designed with an eye for gathering people together to create community.Studies have found that workers benefit from a space that encourages the growth of a community. When people gather, they not only have fun but learn from each other and make business connections.
Technology
Technology and security continue to play a bigger role in workplace planning. Using the latest technologies such as Artificial Intelligence, virtual reality, augmented reality and mixed reality will become a normal part of day-to-day working life.With workers located around the globe and across time zones, workplace technology must support a collaborative virtual environment where colleagues can share ideas and assets seamlessly, regardless of their location, say experts. According to Rachel Tracy, a B2B tech communications consultant, "The workplace of the future has to ensure that remote workers can access their data and apps, no matter what device they're using. Technology such as mobile device management and enterprise mobility management will be critical to productivity in the rapidly evolving tech landscape," she says. Amanda Hendley, Managing Director and President of Computer Measurement Group, Inc., states that artificial intelligence and machine learning are key. "To me, the most exciting technologies are in the AI and ML space. Even so, the most essential technologies are those that enable collaboration. As the demand for talent grows and as the workforce becomes increasingly global, the need for collaborative technologies becomes critical."
Co-Working to Co-Living, Multi-Purpose Designs
The rise of co-living spaces will continue to grow, offering a new style of communal living. In a world where the lines between working and non-working life are becoming ever so blurred, co-living spaces offer an appealing balance. Alongside co-living is the multi-purpose designs. Think spaces that simultaneously serve as a private members' club, a workplace, a hotel, and a restaurant/bar.
Want to chat about the making your workplace useful for many years to come? Speak with one of our workplace experts! Call us at 800.427.5811 or email: info@rigroup-us.com.
Sources:
https://clutch.co/hr/resources/future-of-work-how-workplaces-meet-worker-needs
https://www.cio.com/secure-digital-workplace/playlist/todays-workplace-technology/Crowdsource/a-look-at-the-future-workplace-secure-flexible-and-collaborative