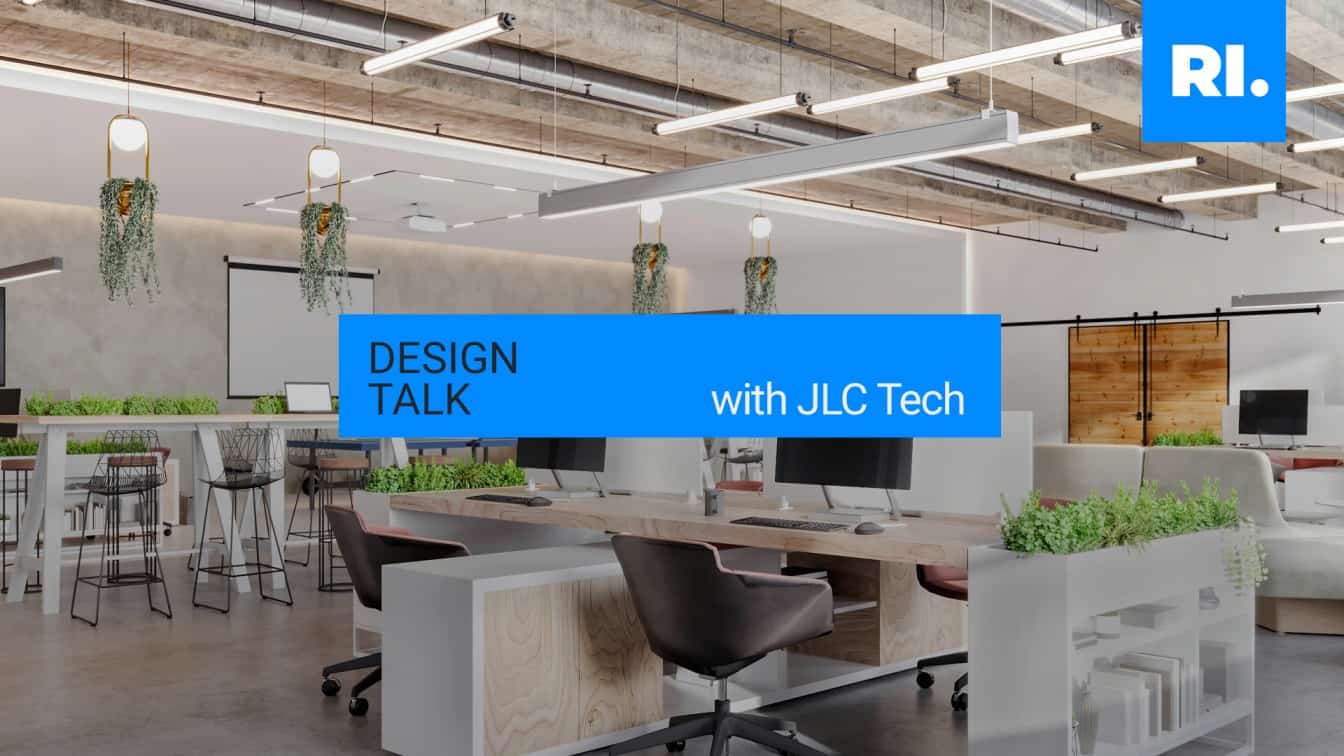 17 Jun

Design Talk: Lighting Innovation with one of our suppliers, JLC-Tech

Few things impact workplace design as much as lighting. When done right, lighting has the capability to transform the way people act and feel in a space, with studies showing that optimized lighting has capability to enhance wellbeing; reducing tension headaches and eyestrain whilst boosting people's moods and concentration levels. 

Kelly, our Business Development Director, had the opportunity to catch up with Bob Cook from JLC-Tech to talk about all things lighting. Trailblazers in contemporary lighting innovation, JLC-Tech was founded in 2012 with one singular vision: to create unique and useful LED lighting fixtures. Based out of Pembroke, MA, the company is committed to maximizing the energy saving qualities of LEDs and marrying them to modern, creative and structurally-integrated designs for commercial spaces.

Check out the full interview in the video above or you can read some of the key takeaways summarized here:
Kelly: What role does lighting play in workplace design?
Bob: If we look at the post-pandemic workplace, it isn't just about footcount anymore. It's about understanding why people have headaches, eyestrain and fatigue throughout the workday – and a lot of this is down to how light is implemented. Being able to blend artificial light with natural light helps to affect the circadian rhythm and promote wellbeing in the workplace. I suppose as companies look for ways to improve productivity and retain their employees, they probably need to start thinking about how people want to return to improved workspaces with better lighting and air quality than before. 
Kelly: What do you think the future of lighting in the workplace looks like?
Bob: Today it's all about being able to change lighting intensities, control the power of light and going beyond standalone fixtures. We need to start adopting control and utilizing technology like sensors and devices to our advantage.  
Kelly: Have you experienced a change in lighting requirements since the pandemic? 
Bob: Since the pandemic, people are looking towards the design community to figure out what good lighting is since wellness has become a top priority. As people begin to think about how lighting affects people, lighting designers are in a good place to impart their knowledge and help businesses make the right choices. 
3 recommendations for those planning workplace design/build projects
Understand Value: Lighting designers are underestimated. If you have the opportunity to work with a workplace design firm that has a lighting designer, then you should take it with both hands. Lighting manufacturers often concentrate on aspects like optics and glare, but trying to understand the effect that lighting is having on people is more critical to successful lighting installation. 
Repurpose: If you're moving things around and looking to take a more sustainable approach, then repurposing lighting where possible is something I'd definitely recommend. 
Consider Supply Chains: The struggle with supply chains is only going to continue, so I'd definitely look at availability in the U.S for good quality lighting products. 
Kelly: Why is lighting so important in a modern workplace?
Bob: Lighting has the ability to integrate with things like UV disinfection and it can be optimized for energy efficiency – this kind of technology is something that's going to become more prevalent as we move into the future. Right now, studies show human-centric lighting can boost productivity in the workplace, and it's clear to see that people are becoming more cognizant about the benefits of good lighting – that's why it's important to try to understand what people are feeling and create something that's designed around them.
This supplier JLC-Tech, is a registered AIA and IDCEC approved continuing education provider and currently offers a two-part series focused on health and wellness in the workplace. A third course, titled "Managing Influencers of Commercial Lighting Design" will be offered this Summer. For more information regarding these courses and to sign up, please reach out to Bob Cook, bcook@jlc-tech.com.
Improve your workplace lighting with RI 
RI designs and builds functional spaces to foster productivity and build innovative, forward-thinking spaces for your business. We're here to help you make the right lighting choices and build a platform for future business growth and prosperity. Get in touch to discuss the future of your workplace.