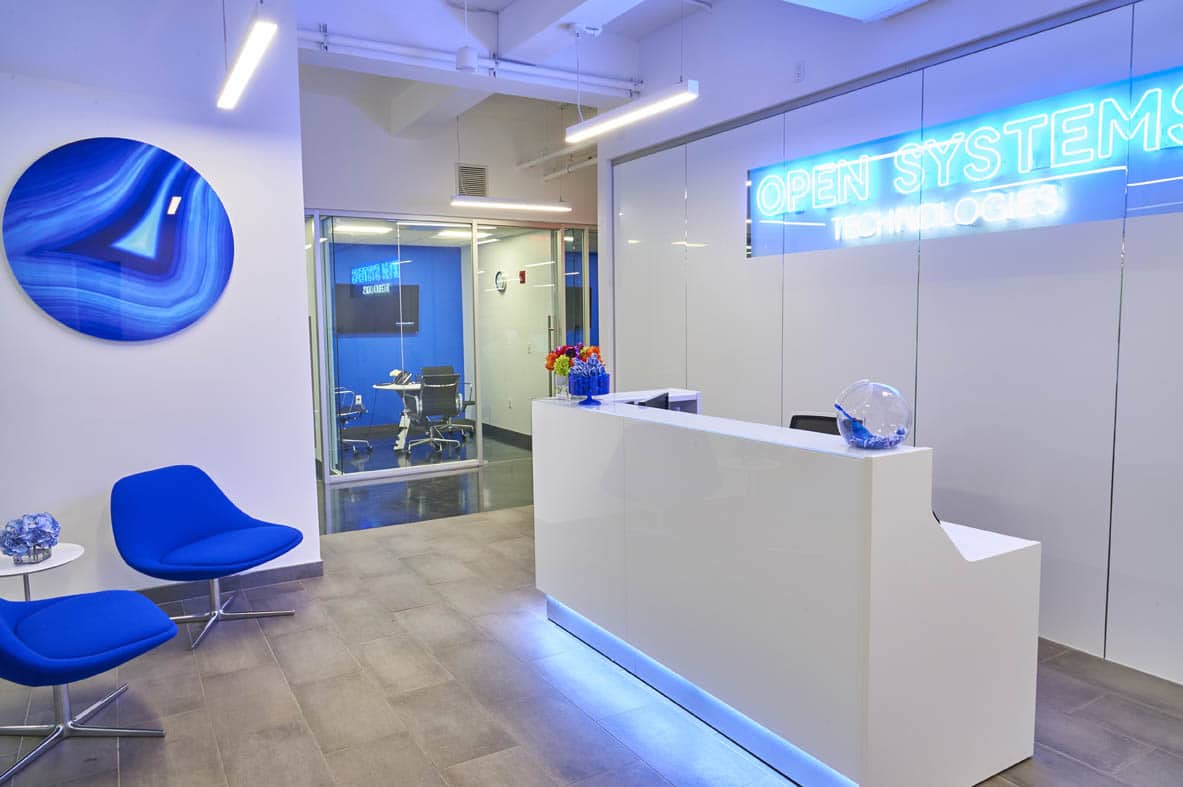 01 Apr

Ask Your Employees For Input When Redesigning Your Workspace
Ask Your Employees For Input When Redesigning Your Workspace
Observe your workforce before you make any major decisions.
The entire point of building an inspiring workplace is to fuel the creativity of your workforce, so let them be a part of the design. Notice how your team likes to work. While some people would love to lounge on comfortable couches, some go to the common areas for brainstorming, and others explore their creativity in quiet, solitary spaces.
Open Systems Technologies Inc.
Size: 17,000 S.F.
Location: New York, NY
Story:
With a lease expiration quickly approaching, Open Systems Technologies, Inc. decided to relocate. Knowing that they would need to design the new space from scratch, they collaborated with their employees to come up with an office design that would satisfy their workstyles and personalities.
Open Systems envisioned a modern and exciting office in order to help them attract and retain top talent. Their current employees and C-level team were dissatisfied with "plain vanilla" building plan they had seen, so they reached out to RI Workplace, who listened to their pains and worked with them to define their office goals. RI Workplace then designed and delivered a space that reflected Open Systems's brand, culture, and story.
Zurich North America
Size: 783,300 SF
Location: New York, NY
Story:
According to WorkDesign Magazine, in an effort to meet the needs of their growing team, Zurich North America, an insurance and risk management company, created a new space for its employees flooded with natural light, social hubs, various neighborhoods, enclosed meeting areas, and a conference center supporting the entire facility.
There are conference rooms, enclaves and casual meeting spaces strategically located on each floor throughout the workplace. The number and location of these spaces were informed by extensive employee engagement and analysis.
Zurich created a workplace testing experience where 150 Zurich employees spent three months testing four uniquely configured office neighborhoods early on in the project.
During the 12-week testing effort, employees split time between individual workstations and shared spaces throughout the pilot floor, all while testing different office furniture, meeting spaces, enclaves and conference rooms that could be incorporated into their headquarters. Before, during and after the workplace test, Zurich employees provided feedback via employee surveys, observation, focus groups, and town hall meeting.
That process revealed that Zurich employees would not use collaboration areas integrated within the open plan desking, thinking conversations there would be too disruptive to colleagues. This led to the creation of the social hubs—located in close proximity to the neighborhoods but removed—for more casual collaboration. Enclosed meeting rooms immediately adjacent to work areas provide respectful areas for ad hoc team discussions, while a 46,000 SF conference center supports the whole facility.
If your office space redesign is planned out carefully and designed with your employees in mind, your new office will be a prove to be a huge success. If you need help or inspiration, contact us and we will be happy to give you advice and ideas on how to make your office move and redesign successful.
Let's talk about your project. Our experienced office design-build team at RI Workplace is here to help you with every aspect of your project from designing your space to building and furnishing your office.
Don't know where to start? Contact Us Today!