23 Aug

8 Ways We Created Our Own Workplace Retreat

Workplace Retreat def.: An office where you can be your best self, a place that makes you happy – a place you want to return to again and again.

At RI Workplace, we live and breathe workplace design. We recently launched our new office evaluation and design package, Workplace Retreat – a solution whose goal is to create inspiring, multi-layered flexible spaces employees love to work from (and CEOs get the best results from).

A Workplace Retreat interior reflects the values, personality types, working and learning styles, culture and goals of all the people who work within the company. A place where each employee can come and become their best work selves.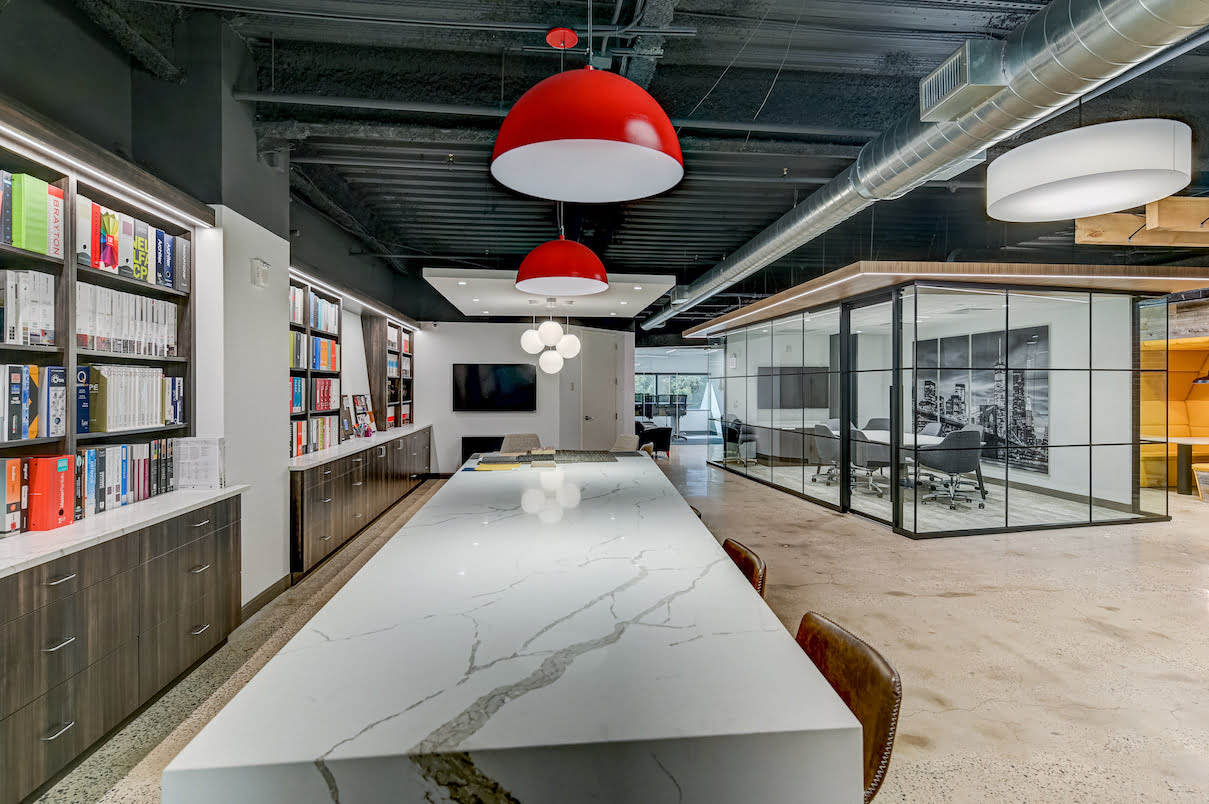 Our prototype Workplace Retreat design scheme was – which may or may not come as a surprise! – our own offices, here in Saddle Brook, New Jersey.
We're not exaggerating when we say our office really does make us happy and productive on each working day of the calendar. Its secret? Being more than just a workspace – yes, it's a place to create, build, brainstorm, analyze and grow – but it's also a place to connect, concentrate, chill, laugh, talk and eat.
We've shared pictures of our offices before, but to give you an even better idea of how we practice what we preach when it comes to design, we wanted to open up our doors to you and give you a full guided tour.
Your tour guide for today is Coy Kirkland, Program Director at RI Workplace – and he's going to show you all the ways we turned our own office into the perfect Workplace Retreat. It's truly a space our team loves to come to again and again.
1. An inviting entrance
A welcoming entrance shows employees, clients and visitors what kind of company you are right from the word go. 
Our entrance space is light, bright, spacious and open-plan, and accessed through clear glass doors. Step inside and you're greeted with a sitting area featuring plush velvet chairs for relaxing – perfect for visitors or waiting clients – book-lined walls, a plant-shelf, and a glimpse at our 'fish tank' – the glass office-within-an-office that's home to many fun and successful brainstorming sessions. We value transparency as a company and as you can see from our interiors, this is a quality we also bring into our design.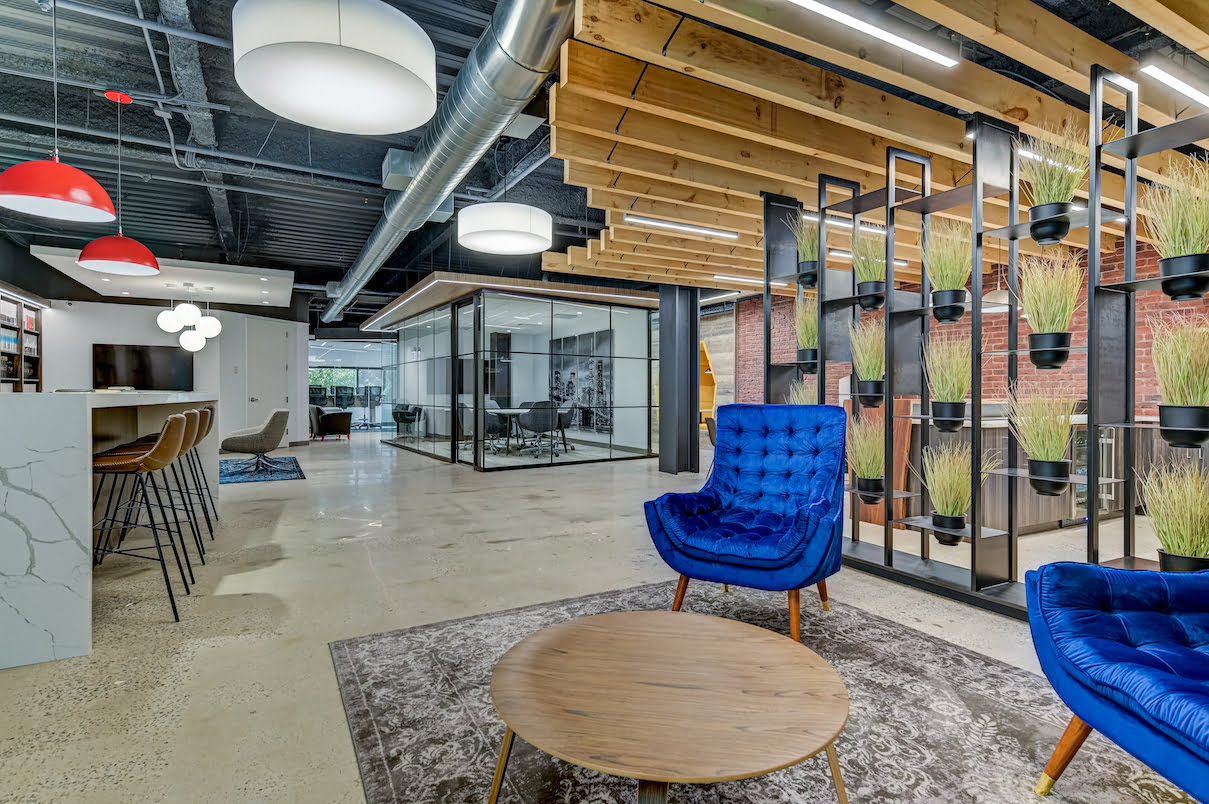 2. Inspiration Library
To the right of our main entrance space is a library, filled with catalogues and design books to provide inspiration for our clients' own office projects. There's also a long co-working desk, or what we call our 'Design Bar', with high stools, which employees can retreat to and work from when they want a change of scenery. 
Many of our staff members love the idea of working in a library space – the inimitable sense of quiet and concentration you get, which this space delivers on.
3. Sociable kitchen
Kitchens often get overlooked in corporate workplace design, but not at RI Workplace. Our kitchen is at the heart of our space – and our workplace culture. Stylish wood finishes, sleek fixtures, a communal table, atmospheric lighting and residential-style open shelving all contribute to make this the space 'to be'. As Coy explains, 'We sit together, enjoy our meals and have some great conversations.' Coy is also a fan of the free gummy candies too!
4. The 'beehives'
These are our hexagonal-shaped work pods, whose plush comfy seating is upholstered in feel-good bumblebee yellow! Our 'hives' offer another space for our staff to work when they need a change of scenery from their desk space. As Coy explains, the acoustics of these pods also limits outside noise and promotes focus and concentration making them the ideal space for Zoom meetings, small group discussions or a quiet break.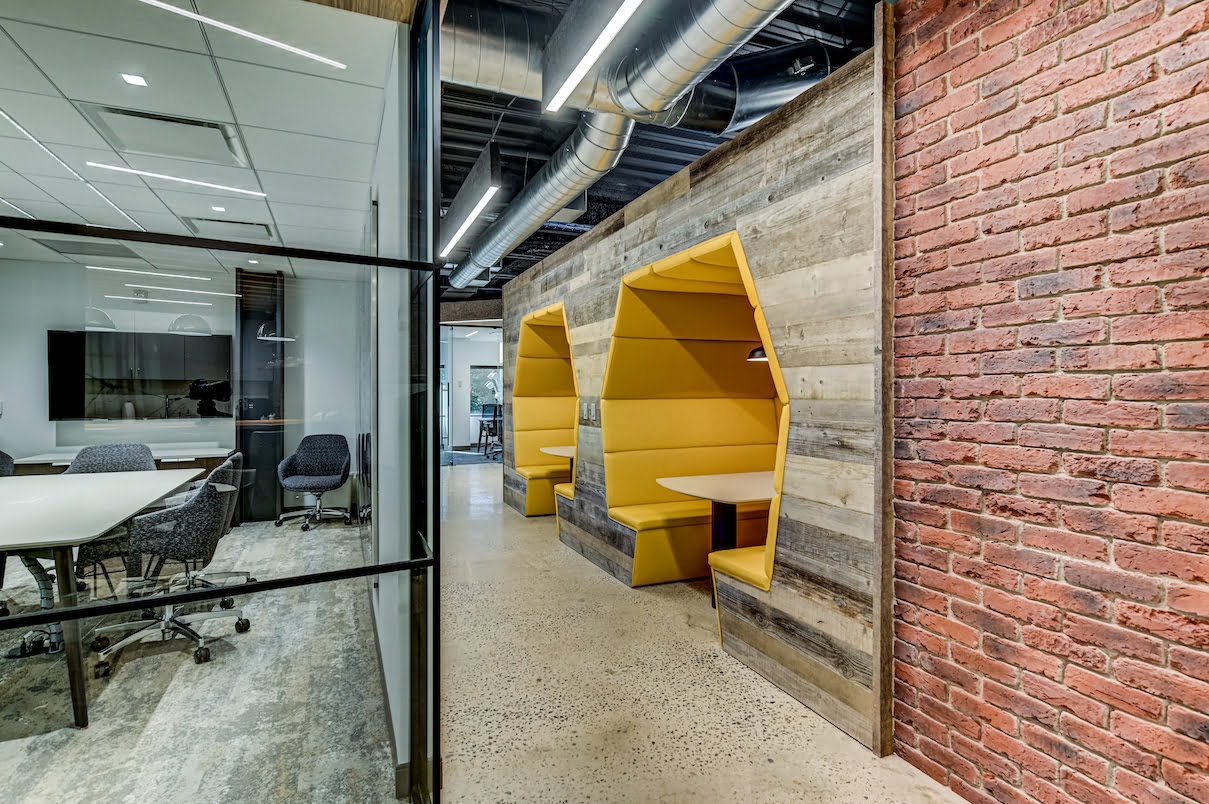 5. The telephone booth
Workplaces are made up of so many different personalities, learning and teaching types. While some employees may be natural extroverts, and thrive on the office-buzz, others might be the polar opposite and need to recharge in a secluded space. Our telephone booth provides that total quiet space. A welcome retreat for introverts desiring a little alone-time in which to work – or to anyone who wants to carry out a call or complete a job without any background noise.
6. Collaboration spaces
While we're all for encouraging our team to use our different quiet spaces in which to work, we also love the benefits of a more traditional office set-up – which is why we have a collaboration zone in which we have a conference room, and rows of workstations where we can work next to each other when we want – and easily call across to each other to see who's doing the next coffee run!
7. Hot offices!
No, not temperature-wise, but a selection of glass-walled offices that are for everyone. Team members simply write their names on the glass when they want to grab the office for a meeting, or to work in, for an hour or two.
8. The 'fishtank' 
Our glass office (within our office) is affectionately known as the 'fishtank'. It's where we spend a lot of our time, discussing projects and planning the weeks ahead. It looks out onto a relaxed, open-plan seating area, which we often move to – especially on Friday afternoons! – to discuss ideas and wind down to the weekend.
Make your workplace a retreat
We hope you enjoyed this tour of our office. As we said in the introduction, our office was both the inspiration behind and prototype for our new Workplace Retreat office evaluation and design package – a solution for the hybrid age that delivers flexible, cost-effective and future-ready spaces that employees, new hires and CEOs will love. 
As you've seen on the tour, a Workplace Retreat office is designed with all personality types, learning styles and employee working methods in mind, for maximum results.
Find out more about how we can support you to turn your office into a Workplace Retreat, here.
Or for a free RI consultation, click here: